Edinburgh VOIP Services and Solutions
Consider IT provide a range of VOIP services and solutions for businesses in Edinburgh. Those looking to break away from the expensive, restrictive services of an old analogue system might want to consider looking into the fast emerging technology of Voice over IP.

In a nutshell, Edinburgh businesses can save some money whilst rolling out a corporate-style telephone system in their offices.
ORDER AN INFOPACK AND GET A QUOTE NOW
Using VOIP technology, the flexibility and options are almost limitless. Working abroad and calling the office costs no more than a local call, and in most cases can even be treated as an additional extension.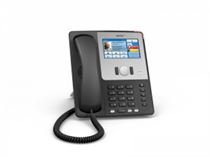 Our VOIP solution is ideal for small businesses in Edinburgh. We can take the hassle and stress from your current solution and put in a cost effective VOIP package that suits your needs.
If you're not based in Edinburgh, we can also supply you additional numbers (0141 – Glasgow, 020 – London, 01224 – Aberdeen or any other UK area code) to give your business a wider presence.
Each of your VOIP telephones can be given a Direct Dial Number, with your main company telephone number used as a "hunt group" like most other PBX systems. In addition to mimicking standard PBX systems, with VOIP services you can expand on these features with additional benefits such as:
Mobile working: having your staff or colleagues work from any location around the world with the same phone number and contact details. No need for additional call costs or mobile numbers.
Advanced routing: based on time, date, holidays, we can have your calls route where you want, when you want.
Fall-back: If your offices are busy and nobody can answer an incoming call, we can set the phones to automatically fall back to a call answering service.
Reduce your International call charges (we guarantee to beat BT's standard prices).
No long term contracts (standard 12 month contract, but we offer a monthly rolling too). BT might tie you into 2 or even 3 years.
Custom music on hold: We can produce custom messages for your on hold to advertise or promote services or products. Or simply choose one of our readily available on-hold music loops.
Conferencing facilities: Bring your colleagues into the call by conferencing them at no extra cost. Our systems will happily support 5 or more simultaneous users in the call.
Hold, transfer, forward, and manage calls live as they come in or get parked.
Integrate the phone system into your door entry system.
Integrate the phone system into your current CRM system for automatic dialing, pop-up messages, etc.
Free internal and cross-continental "internal" calling with our packages (Where internet speeds permit).
Customised IVR (Interactive Voice Response) platform (e.g. "press 1 to be diverted to…").
Completely flexible Voicemail facilities: Point voicemail for your inbox to an email account, or pick up mail remotely, or pull voicemail from the phone directly.
Call queuing: for offices with a high volume of inbound calls we can set up call queuing for a small additional fee.
Call recording facilities (inbound and outbound) and we can automatically archive these calls for you too.
Port any number from any system onto our platform so you never lose your business number.
Our VOIP services really are a flexible, cheaper, efficient and most importantly, scalable, solution for your business.
ORDER AN INFOPACK AND GET A QUOTE NOW
Get in touch to see how we can help