Over 45% of 250 businesses surveyed in Edinburgh have no backup processes in place!
What makes us different?
The first most important thing that makes us different from many of the backup services form other IT companies is that we are not a middle man. We don't just resell someone else's backup service and make a profit, passing the buck when there's a problem. We've invested heavily in our own hardware in Edinburgh and Manchester for extra redundancy, and we are licensed to utilise one of the most popular commercial backup platforms on the market.
In doing so, we control every aspect of the backup process and have full and complete access to the hardware your encrypted backups are stored on, meaning there is no middle-man to go through to sort out any problems you might have.
In addition, we also offer our Edinburgh clients on a maintenance agreement a fantastic on-site delivery service whereby when you require your backups to be recovered, we'll drive them from our offices to you within a matter of hours (not days as downloading would take!).
Investing in technologies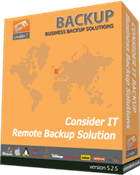 In the recent months, we've heavily invested in the infrastructure to provision small businesses with an easy to use, secure and reliable remote backup solution to allow continuous backup of critical business data. So whether you're in Edinburgh, Fife, Aberdeen, Glasgow, Inverness, Dundee, or anywhere up and down the country, you know you can rely on our proven, secure, redundant and reliable online backup service.
Our solutions
We've gone to great lengths to provision a competitive and reliable backup service for businesses. Whether you need 2GB of remote backup or 250GB, our service can ensure your data is securely stored off-site remotely.
Our technologies use industry standard encryption techniques, the same ones used by the U.S. Government, to ensure your data cannot be retrieved by anyone other than you. Not only do we encrypt your backup files on our remote servers, we also encrypt the data between server and client giving you an extra layer of protection.
With broadband now at a reasonable speed nationally, online backup has become a real solution for insuring your business data. Ditch the tape drives, and put away the pen drives. After you've installed and set up your Backup Sets, sit back and relax in the knowledge your business data is being backed up every single minute of the day (or you can choose to just back-up once a day, once a week, once a month, whatever!).
Our technology allows incremental and differential delta backups meaning you only have to backup the files that have changed since the last backup. This means that even less bandwidth is required to back up your files!
Secondary Backup
Many of our current clients already have a backup process in place, and to complement it, they use our remote backup solution to add an extra layer of assurance to their business disaster recovery plans. Just because a business backs up to a local network drive doesn't mean they've got sufficient backup processes in place.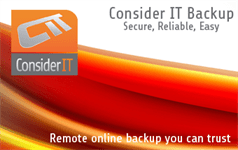 Should their building suffer from fire, flood or theft, their backups are likely going to disappear along with their original data. Having remote online backup ensures a second copy of the backup to allow business to continue as soon as required.
Minimise the impact data loss can have on your business by using our remote online backup service and sleep easier at night knowing that your data is in safe hands.
Give it a try
Why not give us a try and set up a 60-day free trial of our backup solution in your business? There's absolutely no commitment, and no credit or debit cards are needed; we even promise to give you that warm fuzzy feeling inside knowing that your critical business data is being backed up remotely online every single day. And remember, once it's set up and running, just sit back and do NOTHING!
If you fancy trying our service, click here to contact us, email sales@considerit.co.uk or call us on 0131 510 0110.