Remote Online Backup
60 Day Free Trial
Absolutely No Commitment!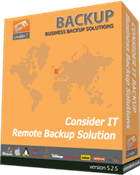 Our Backup Solution is suited for businesses and home users alike. If you don't currently back up your data, then why not give this fantastic offer a try? There's no commitment whatsoever. At the end of your 60 day trial, the service stops. If you want, you can continue using it by signing up. But if not, don't worry.
We don't take any payment details, no cards, no invoices, nothing. This isn't one of those annoying services that gives you a time-limited trial and then once you've forgotten about it, charges your card. At the end of this backup service trial, we will suspend your account. If you choose to continue using the service, just get in touch and we'll get you going again.
To take advantage of this free trial contact us NOW!
0131 510 0110 or support@considerit.co.uk
Or contact us via this form: