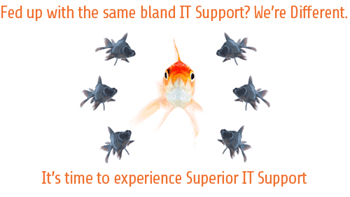 When you first start out on the Superior IT Support journey we'll perform a professional audit on all your IT infrastructure. The devices we support will be asset tagged with one of Consider IT's unique stickers. Each asset will get a unique number allocated and we'll use this to track all support incidents carried out on that device. Read more…
We don't just react when things go wrong. We constantly monitor, 24 hours a day, 7 days a week, your IT infrastructure to make sure that it's working as expected. We're alerted when things start going wrong and take action immediately to rectify the problems – usually before you're even aware! Read more…
We are the ideal size to support your business. Consider IT isn't just one technician working out his spare room, but we're also not a massive, faceless corporation that doesn't care. Our friendly technicians will get to know you, your business, and your staff like no other IT company. Read more…
We don't pay bonuses to our technicians for selling hardware or software. This way, they're never incentivised to sell one particular product or software solution and you'll always be given the best advice as to what to purchase. We'll plan ahead with you when things do need replaced too, so there are never any nasty surprises around the corner. Read more…
Consider IT has been trading since 2007 and has steadily grown continuously since then. We now have a fantastic and diverse range of clients that allow us to lay claim to being one of the most well established IT companies in Edinburgh. Read more…
6. We're friendly and wont bamboozle you with jargon
You'll never hear from us that "networking failed to bring up eth0″, or that "Windows wont boot because the BIOS isn't set up with the HDD being primary boot device". What you will hear from us though is an accurate and honest report on what was wrong, without confusing jargon (unless you want the jargon that is!).
Read more…
7. We're honest: we'll never make up stories as to why things aren't working as they should be
When asked, lots of our clients tell us they moved away from their previous IT Support Company because they felt that what they were being told was a pack of lies. They were sure that the IT Company was just covering its back by making up stories about what was wrong with their systems and they weren't happy that they weren't honest.
Read more…
8. We're socially and ethically responsible
We continually try to reduce our impact on the environment. We don't print when we don't have to and send all invoices electronically. We don't have headed paper in the office. All of our shredded paper is recycled after being securely destroyed. Our Datacentre buys renewable power to keep our servers running. We drive around Edinburgh and surrounding areas in our little Smart Car!
Read more…
9. Our current clients really love us!
Believe it or not, all of our current clients really do love us. In a recent survey they all answered Very Responsive or Extremely Responsive to the question "How responsive is Consider IT?" In the same survey, they all said they'd be happy recommending our services to a friend or colleague.
Read more…
We absolutely love our coffee in the Consider IT office. So much so, we get it freshly roasted from our local supplier and grind the beans seconds before each brew! What we love more than coffee on its own, is coffee with our clients. So why not pop down to see the guys at work (whilst they drink coffee!) and have a look at how we do things? Read more…