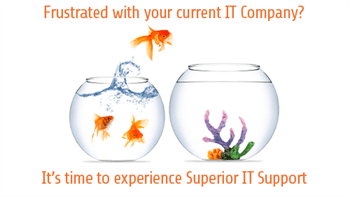 It's time to move
If you're getting annoyed by the time it takes for your current IT Support company to resolve your issues, or even more frustrated at how long it takes them to just acknowledge the problem, then you really need Superior IT Support.
Consider IT specialises in providing a responsive, reliable and extremely competitive IT Support service for businesses in the Edinburgh and surrounding regions. We really are at the forefront of IT Support and are continually developing new tools that allow us to provide a faster and better support service to your business.
We've gone back to the drawing board to look at how IT Support is carried out in the UK and we've developed systems, strategies, and solutions that allow us to provide an exceptional level of support to our clients. We're so confident that you'll love our service, we're even offering a month free!
10 Reasons We're a BETTER IT Company
How do we compare?
We believe we're one of the most competitively priced IT Support companies in Scotland. As a result of our pro-active support methods, we're able to keep our prices low whilst still providing an outstanding level of service and support. In fact, why not give us a call today and let us know how much you're currently paying for your sub-average IT Support? We'll almost certainly be cheaper on a like for like professional service!