Check out our Edinburgh IT Support page for more information on what we do in the Edinburgh area.
Welcome to Consider IT. Chances are you appreciate how critical your IT system within your business is and are looking for a trusted and competitive business to look after these systems. We are specialists in IT and we provide a competitive and professional support service for businesses all over the UK.  From our offices in Edinburgh, we are well equipped to deal with all aspects of IT support, servicing and consultancy.
With our remote support software solutions, no business is too far away for our immediate response. We have offices in Edinburgh and Carlisle. So if you're looking for IT Support in Edinburgh, click here.
Edinburgh VOIP Services (Voice over IP)

Our VOIP services are ideal for businesses that want to leverage the flexibility and features of a high-end telephone solution without the massive upfront cost you'd expect to pay for an analogue PBX system. Our VOIP service is a hosted service (we can provision a local VOIP server if you'd rather) that allows you complete freedom from old fashioned systems. Our Edinburgh VOIP solution allows you to save money on calls whilst having the ability to manage your telephone system the way you've always wanted. For more information about getting Edinburgh VOIP from Consider IT, give us a call or click here to visit the VOIP page.
ORDER AN INFOPACK     FIND OUT MORE
Online Backup Service
Consider IT is proud to announce the launch of our new Remote Online Backup Service.  This service is now available to all current and new clients. For more information have a look at our Remote Online Backup Service page. If you would like to subscribe to this new service, give us a call on 0131 510 0110.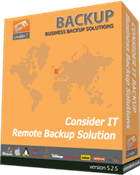 Most businesses who need IT Support in Edinburgh have every intention of setting up a backup policy and regularly maintaining backups. Unfortunately in most cases this never comes to fruition and businesses are at serious risk of data loss. Our online backup service provides you and your business with a scalable, reliable, easy-to-use and secure method of backing up your data. What's more, it's a system that allows you to simply forget about it; you don't have to regularly fish out data tapes or DVD discs and remember to swap them over every day!
Find out more about our online backup service now. For those interested in our Online Backup Services in the Edinburgh area, we offer a low cost on-site setup solution that fits your needs. If you're elsewhere in the UK and are interested in online backup, we also offer a remote installation service. Interested? Give us a call on 0131 510 011
No More Downtime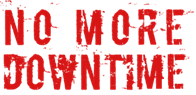 With our Full Support package and Emergency Response, we guarantee that if your systems go down and you are unable to work as a result, we'll be on-site within 2 hours to fix it!
Our comprehensive range of solutions are built around your business needs.  We understand that every business is different, and we tailor
our support to suit.  We get familiar with your business, your staff, and your ways of working to ensure we provide the best possible service.
Transparent Pricing
Other Edinburgh IT support providers like to hide their prices so they can bump up the price when they realise you have the cash – we don't.  Answer a few of the questions on our Support Price Estimator, and we'll give you a no obligation estimate for your IT support pricing.  Click here to see our Support Price Estimator. Check out our Edinburgh IT Support page for more information on what we do.